Read Time:
2 Minute, 16 Second
Italy's government will declare a state of emergency on Thursday as water levels in Venice remain high. Damage costs are now being estimated at hundreds of millions of euros.
Water levels have not significantly abated in the Italian city of Venice after they reached the highest level in more 50 years late on Tuesday night.
Italian President Giuseppe Conte is expected to announce a national state of emergency on Thursday over the unusually high water levels.
DW's Giulia Saudelli said "tourists and camera crews are wading through the water." Water levels on Thursday reached around 130 centimeters (51 inches).
Giulia Saudelli@giuliasaudelli
Water is rising in Saint Mark's Square, Venice. Tourists and camera crews wading trough the water in rubber boots. High tide of about 130 cm expected for 10:50 @dwnews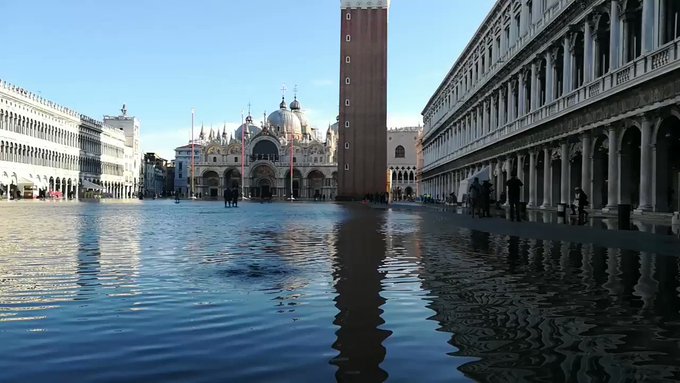 468:51 AM – Nov 14, 2019Twitter Ads info and privacy 23 people are talking about this
Venetian mayor Luigi Brugnaro said on Thursday that the city was "on its knees" and unequivocally blamed climate change for the high water levels.
"There's widespread devastation," he said. "In all likelihood the damage runs into the hundreds of millions of euros."
 VENICE FLOODS — IN PICTURESGrand Canal bursts its banksIn a city of canals, high water levels cause chaos even far away from the lagoon. Beneath Venice's iconic Rialto Bridge, the Grand Canal burst its banks and made access difficult. The bridge is one of only four which spans Venice's largest canal, which is a transport route for many tourists and workers in the city.
What has the prime minister promised?
Italian newspaper Repubblica reported that Conte was also pledging financial aid to all Venetians in light of the high cost of damage done to property and potential losses of income form tourism.
Despite the flooding, tourists still came out in droves to the famous historical city, with large number of tourists still in St Mark's Square.
James Jackson@derJamesJackson
I'm in Venice for the floods and what's truly surprising is how many people have resolved to just have fun and enjoy their holiday regardless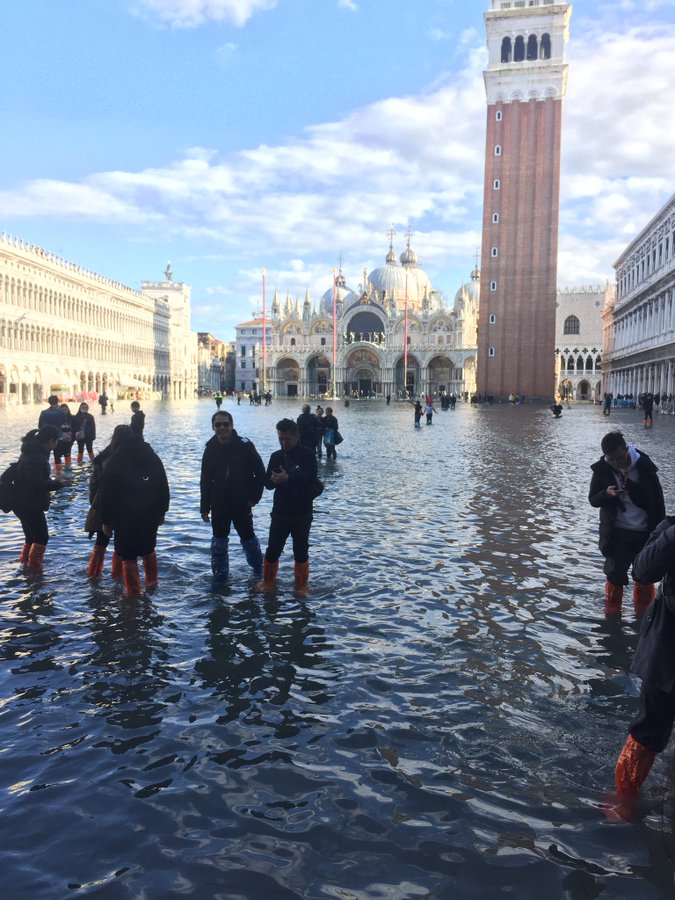 39:45 AM – Nov 14, 2019Twitter Ads info and privacy See James Jackson's other Tweets
Conte also reaffirmed that the controversial underwater barrier system, Moses, was on track to be ready by 2021. The project aims to prevent similar drastic floods from happening, but has been plagued by delays owing to funding and corruption.
The so-called "Acqua Alta," or high water, is at its highest rate in over 50 years, peaking at 1.87m.
source: dw.com