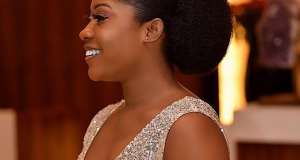 Beautiful Ghanaian actress Edwina Mensah has cautioned men to be careful when preparing to settle down with a woman.
According to the actress, a lot of women glitter but they are very empty and undesirable.
She pointed out that many of the women who claim to be beautiful are only 'beautiful' outwardly but ugly in the inside, which means, they have no good manners and qualities of a good woman.
"You meet me you want to marry me because I'm beautiful what if I don't have brain, what if my beauty is been sponsored, be careful when preparing to marry", she said.
"If you walk on the street with some women and unexpected rain falls, you will be shocked that 95% of their beauty will be washed away by that rain. Be very careful nowadays before marrying beautiful women. Many of them are actually Beautyfools. They are beautiful but they don't have brain", she added.
Edwina concluded that before marrying a lady make sure you know her and not by looks.
Source:modernghana.com