In this article, innovation consultant, venture builder, and founder of Earlybrite Victor Tubotamuno discusses the difficulties and possibilities of the Metaverse. Earlybrite is a cutting-edge learning platform that supports the next generation of augmented and virtual reality (AR/VR) developers, expands educational opportunities, and transforms how children learn through immersive experiences of the highest calibre.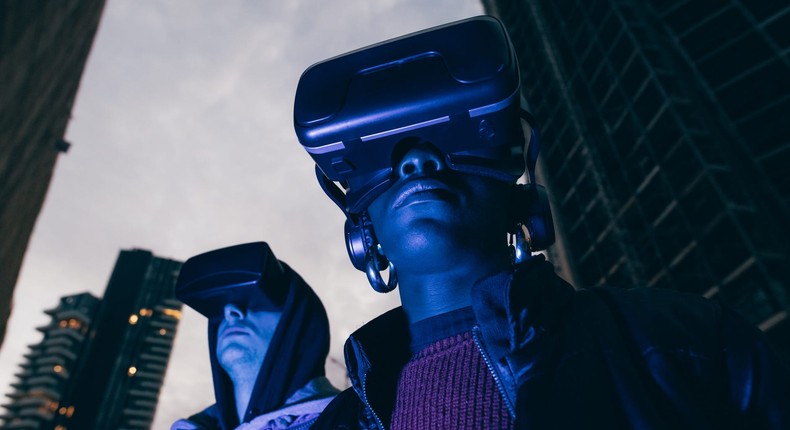 The internet is bringing about a new era of quick change and transformation that will have a significant impact on the global economy.
Digitalization is becoming more important across the entire continent. It is altering how we conduct business, perform our jobs, engage in social interactions, and utilise public services. The explosion of inventions brought on by Africa's burgeoning startup environment is a fantastic illustration of this new trend.
The majority of web services have switched from being text-based to being audio and video-based, and the metaverse is the next stage of the internet. The metaverse is the next generation, giving users a more lifelike 3D experience that gives them the impression that they are actually with another person in a specific location in a virtual environment. With a focus on actual human connection and discussion rather than on still images and text, it will be more human than the internet as we currently know it. Therefore, it might offer countless advantages to individuals all over Africa.
Within a decade, according to analysts at Analysis Group, the global adoption of the metaverse may increase GDP by 2.8%, with Africa contributing 1.8% of that increase. This is equivalent to $3 trillion globally, of which $40 billion is attributable to Africa.
Describe the Metaverse.
The idea of the metaverse is not new and has been around for a while. The first book to describe this phenomenon was the 1992 book Snow Crash. On the basis of this concept, some businesses later developed virtual communities; the most well-known of these is 2003's Second Life.
The words "meta" and "universe" are combined to form the term "metaverse." The term is usually linked to Web 3.0, the upcoming Internet generation.
The term "Metaverse" describes the networked, VR/AR-focused digital platforms of the present and the future. The technology sector and others will have a lot of commercial and financial prospects thanks to what is generally considered the next stage of the internet.
Avatars are used by Metaverse users to establish their identities, engage in social interaction, and create communities. In the metaverse, digital currency is used to buy items like clothing, armour, and weaponry. With the use of a VR headset, users can easily explore the metaverse for amusement or any other reason.
People can still access the metaverse without a VR gear by using digital glasses, cellphones, AR-enabled devices, or even PCs.
There are difficulties that Africans must face because the metaverse is still in its infancy.
For Africans and the rest of the continent, the Metaverse holds great promise, but for Africa to completely integrate into the metaverse ecosystem, assistance is required.
What difficulties do Africans encounter?
1. Accessibility
12.5 million VR headsets were sold in 2021, according to Omdia, a global consulting and research company, and it was predicted that 70 million devices will be sold by 2026. Only a small portion of African internet users can buy the best-selling Oculus Quest 2, which costs $299, unless prices are reduced.
However, affluent Africans are already using the technology.
2. Price of mobile data
Africa lags behind the rest of the globe in terms of data prices and internet speeds. In Africa, only 50% of the populace has access to 4G mobile networks. The benefits of the metaverse for rural Africans who still rely on 2G and 3G internet are still unknown.
One of the most exciting developments expected to realise the potential of the metaverse is 5G network connectivity, which Africa has yet to completely adopt. Nevertheless, 5G base stations have been set up in a few African nations.
3. Security and privacy
Data from clicks and time spent on a website can be gathered by advertisers. With capabilities that can scan biometric data from headset wearers, such as eye movement and facial expression, firms will be able to determine how long customers saw an advertisement and whether they touched a product in the future.
This implies that the metaverse needs to be governed in order to guarantee user security and privacy.
What possibilities exist for Africans in the Metaverse?
Brands and innovators are starting to be ready for this future even though the metaverse hasn't yet gained enough popularity in Africa. They have a persistent drive to keep making this a reality in Africa.
Let's quickly review the opportunities this innovative technology presents for Africans:
1. Special chances for African brands to market
As brands, marketers, and advertisers will now have a great opportunity to reach devoted metaverse consumers, the metaverse may create a big advertising opportunity for African businesses.
2. A fun method for consumers to engage with brands
In the future, businesses will be able to purchase billboard placement while clients explore virtual environments, and the metaverse may eventually open up new storytelling avenues. For specialised advertising campaigns and immersive experiences that let customers engage and interact with items, African businesses may invest in cutting-edge 360-degree movies.
3. Immersive education
In the metaverse, we can interact with 3D things and engage in exploratory learning. Geographical barriers to education may be removed via the metaverse, enabling anyone, at any time, to study with anyone who has a similar interest.
4. A fresh means of amusement
People can now watch concerts by their favourite musicians without ever leaving the comfort of their homes thanks to metaverse technology.
Holograms can be made by developers using augmented and virtual reality to improve and immerse users in the experiences.
Two well-known online gaming platforms, "Fortnite" and "Roblox," have already hosted virtual concerts featuring well-known artists like Twenty One Pilots, Travis Scott, and Ariana Grande. These virtual performances have already attracted millions of viewers, and there will be a lot more of them in the future in the metaverse.
5. The emergence of new employment opportunities
The advent of the metaverse is giving rise to a new breed of IT and hybrid occupations that require a special combination of technical and non-technical skills, much like the evolution of Web 2.0, mobile technology, and Internet of Things devices.
The following are a few of the job openings in the metaverse:
product supervisors
3D game creators
equipment designers
Storytellers
Software developers for VR/AR
Expert in metaverse marketing
In the metaverse economy, careers and employment opportunities are growing increasingly differentiated. Even while computer science and engineering will account for a large portion of the new occupations, those with exceptional soft skills, technical proficiency, and business knowledge will have chances in non-technical or hybrid positions.
Users that take initiative, adapt to the metaverse, and hone their skills are more likely to succeed. Are we prepared to explore the metaverse and take use of its possibilities?